Share/Move Menu
The Share/Move Menu can be used to export, print, move, or copy a drawing to another source. It is accessed by pressing on the Share/Move Button in the Bottom Toolbar and appears as shown below: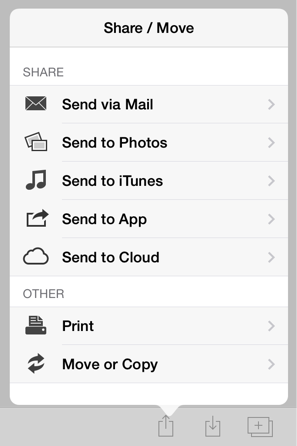 Please note that the Send to Cloud option will only appear in this menu if you have configured TouchDraw to view/share files with a Cloud Services Provider (i.e. Dropbox, Google Drive, Box, etc.).
Click or Tap on the Share/Move Menu item name to learn more about its functionality.
| Option Name | Description |
| --- | --- |
| Send via Mail | The Send via Mail Submenu contains options for sharing/exporting a drawing to an email client. |
| Send to Photos | The Send to Photos Submenu contains options for exporting a drawing as a photo. |
| Sent to iTunes | The Send to iTunes Submenu contains options for exporting a drawing to iTunes. |
| Sent to App | The Send to App Submenu contains options for exporting a drawing to an application. |
| Send to Cloud | The Send to Cloud Submenu contains options for exporting a drawing to a cloud services provider. |
| Print | The Print Submenu contains options for printing a drawing. |
| Move or Copy | The Move or Copy Submenu contains options for moving or copying an existing drawing. |
---
Table of contents
---